Cybersecurity Protection for Las Vegas Businesses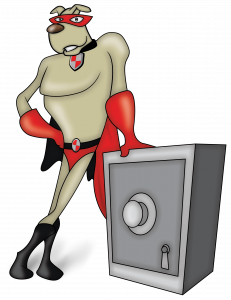 Network Heroes manages your sensitive data and large recordsets discreetly. Let us deploy the network solutions needed for Las Vegas data breach prevention.
What do you need to know about Cybersecurity?
Network security should be a number one priority for all businesses. With ransomware, hacks, attacks, vulnerabilities, and data theft affecting companies we all need to stay on our toes. Our goal at Network Heroes is to provide you with the best network security protection possible so that you run your business without worrying about them. The specifics behind this goal are not the same for everyone because we want to keep your unique needs and budget in mind.
Hacks & Attacks
As a business owner, it may seem that everything out there is against you. When we discuss things like hackers, attackers, and automated web bots many of us avoid the thought of it. Even though we want to live in the bliss that these issues do not happen, we need to be aware of them. They are trying to get into your network and access your business information, which includes personal information about your clients. This data has to be protected or else these attackers will do their best to lock it down or share it with the world.
There are many security threats that are happening right now, and it is important to know which ones may affect your specific business and clients. When these attacks do happen, they result in downtime, lost revenue, fines due to data breaches. These are not just financial losses but can result in a loss of respect towards your business by your current clients, who may decide not to continue working with you. These threats have caused many businesses to close as a result of them.
Internal Threats
Outside threats are common but many business owners do not take into consideration that there can be internal threats. This is anything that involves employees. To make sure that these do not happen a Network Security Plan must include the employees. They need to be trained on using best practices with technology and the importance of their role to keep the network safe.
Compliance
Network security is an absolute necessity, especially if your business stores customer data, private information, or takes credit cards. The importance of Network Security increases still if your business is required to follow HIPAA, SOC, or any other regulations. If you are required to be compliant to these regulations, then it is essential to have a team that can help you stick to that.
A Breach Can Happen to Anyone
Over 650,000 Nevada students were impacted by a data breach in August 2019. This is just one of the cybersecurity headlines that marked a steady increase in activity as hackers grow bolder. This breach involved the software program Aimsweb 1.0, which Pearson Clinical Assessments uses to screen and assess students at various levels.
Approximately 13,000 school and university accounts were exposed, netting the hackers the names, dates of birth and email addresses, according to Pearson of students that used the system from 2008 to 2019.
Schools, local governments, and small businesses are increasingly the targets of organized cyberattacks. Network Heroes can help your organization stay out of those statistics.
Cybersecurity Protection For Las Vegas Businesses
Protecting your business information and the data related to your clients is what Network Heroes does best.
Evaluate - We take a look at your current network business environment and evaluate where it stands.
Assess - We provide a complete assessment of your overall security health.
Implement – We complete a security plan to provide a comprehensive security solution and implement it with you.
These benefits are not a one and done situation, but we work side by side with you to ensure that you, your business, and your clients will be protected from threats to data.
Who Can Protect Your Las Vegas Business from Data Breach?
No matter what size your business is, if you deal with debit and credit cards or transfer funds, a security breach can threaten your livelihood and even lock you out of critical systems.
Canada and the EU have enacted strong privacy laws that protect consumers and businesses. However, in the United States, no such laws exist for data privacy at the federal level. However, 46 states, including Nevada, Puerto Rico, the District of Columbia, and the Virgin Islands require notification to individuals impacted by a security breach.
There are some federal regulations regarding the acquisition and storage of data, but each company has to determine and implement its own data breach prevention measures.
What Are Some Data Breach Best Practices You Should Consider?
When you partner with an IT consulting company, such as Network Heroes, you gain the expertise of an experienced IT services provider. We help your business adopt proactive data breach prevention policies.
One of the best practices that can protect your client data is adopting the Payment Card Industry Data Security Standard (PCI DSS). Known as PCI compliance, this industry credential leads to improved security for data processing, transmission, and storage — providing protection for sensitive financial data along every step of the way.
What Services Does Network Heroes Offer to Your Organization from Data Breach?
At Network Heroes, we customize a solution based on your industry, the type of customer data collected and specific vulnerabilities you may face. To maintain computer security best practices, our consultants can:
Install a firewall in hardware and/or software form to act as a gatekeeper
Implement anti-virus software and software security updates
Set up isolated storage for confidential information like credit card numbers. These should be stored on separate web servers not connected to the internet.
Training to teach you and your team to avoid sharing access to network drives and individual devices and eliminate requesting confidential information in an email, chat sessions and other unprotected transmissions.
Network Heroes puts the responsibility of IT management on the shoulders of security specialists used to dealing with sensitive data and large recordsets. Let us deploy the network solutions needed for Las Vegas data breach prevention.